Can't. Stop. Making. Denim. Skirts.
I've made a
flared version
and then a
straight version
, but neither one has pockets. I love Beth of Sunny Gal Studio's versions of
Simplicity 2152
, but I don't have that pattern in my cabinet. It seemed silly to buy it, seeing as how I
do
have lots of paneled skirt patterns.
Which brings me to Vogue 1203, an out of print Tracy Reese design.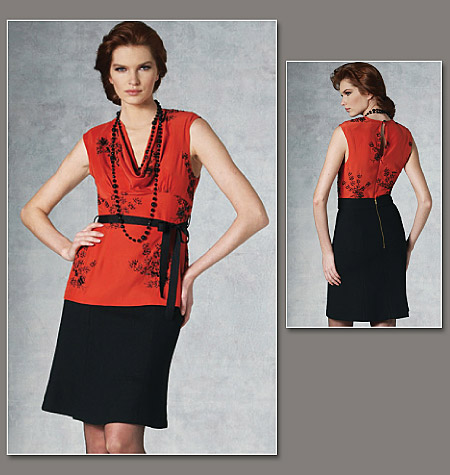 Somehow I remember that it was
Eugenia's lovely version of this skirt
, posted back in 2011, that prompted me to buy the pattern.
Plan: combine the 1203 skirt with pockets like the Simplicity 2152 design.
So, I'm not going to lie to you: the pockets are a little too low. But I love the skirt anyway! It has a different kind of contour waistband (not a yoke, like the Simplicity 2475 straight skirt I recently made). The band is narrower where it attaches to the skirt, and then it flares out above the waist. I had no idea how this would work for me, but it's great. It gives me the high-waisted effect with no binding.
Actually, I did have to tweak the fit at the waist during construction. Even though a 12 is usually about right for me, the waist of this skirt was really big. Hips were fine. But the waist was flopping about, and that wasn't going to work for this style. I removed 1" from either side at the center back, tapering back to the original seamline by the bottom of the zipper. Strange, huh?
But whatever, because now I love the way it fits.
As you can see, I didn't do the cool exposed zipper per the pattern. And thank goodness for that, because ripping it out to shrink the waist would not have been fun. The only 9" metal zipper I had was lilac. I stopped at the fabric store handiest to my house, and they only had 7" metal zippers. It seemed to me that 7" might not be quite long enough and I was right. The 9" invisible zipper only barely lets me in and out of the skirt. 11" would be better (and would that I had known that, since I shortened a longer zipper from my stash).
This fabric is, um, awesome. It's
a 75% cotton, 25% bamboo denim from Waechter's
. I was drawn to its combination of drape with substance. Love it. I only got one yard of 57" wide fabric, which did not turn out to be enough for a with-nap layout. I alternated the orientation of the pieces with no discernible ill effects.
With the skirt I am wearing a New Look 6071 dress, never before seen on this blog! Here is the dress on its own:
I made a matching camisole to wear underneath the dress, because it is cut way low! I adore this dress, but it doesn't make it out of the closet much (too sexy for my life!). I did wear it to my 25th high school reunion last fall, which was worth the making of it for sure. I'm happy to get into circulation today. I'm off to have stitches removed from my face. Two weeks ago I had a surgery to remove a squamous cell carcinoma from the outer part of my left eyebrow. Hence the headless photos! I haven't been able to wear much makeup, which looks rather washed out in pictures. I'll be back soon to show off my scar (which isn't so bad, and will surely fade a lot over time).