Have you noticed how many cute 40's-style blouses have been popping up on the blogs lately? There have been bunches, and that made me ask myself why I didn't have more of them. The few I have made all have some issue or another. I want easy-to-wear blouses that look tidy in that particular way that vintage blouses manage to do.
Somehow it doesn't seem that I have blogged about DuBarry 5265, an eBay pattern purchase that I made into one and a half dresses last year. The "one" was a successful rayon short sleeved dress, and the "half" is a half-finished, lined, somewhat tailored long sleeved wool version. The plan is to pick the wool dress back up and finish it this fall.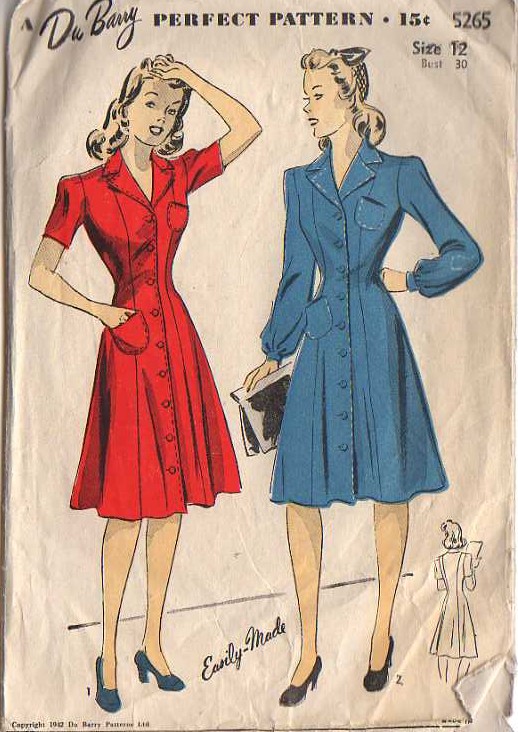 Three features of this particular princess-seamed shirt dress distinguish it from modern versions of the same general design: the princess seams run closer to the center front than on modern patterns, the convertible collar is wider and cut much higher on the chest than today's shirts and the sleeves have darted caps.
The forties blouses I have admired have been short, wide at the shoulders and relatively tapered at the hem. I tried to replicate those qualities in my adaptation of the dress pattern. The center back length of this blouse is just 19" from neck to hem. Of course I am short myself. This length hits at my high hip, which makes for a good proportion with dresses and high-waisted pants.
The shorts are
New Look 6100
, which my new blog crush Lizzie of
The Vintage Traveler
reminded me to wear. Check out her version--they are oh-so-perfect. This summer has been so rainy and cool I hadn't even thought of wearing shorts! But the navy of the shorts does work well with the print of the blouse. The fabric came from dear
FabricMart
, a nice-quality cotton lawn with coral and ivory flowers on a navy ground. It must now be sold out; I can't locate it on their website. It is somewhat similar to a Liberty lawn. Not as quite as fine and silky, but nice and detailed, and not inclined to wrinkle.
I'd like to find some nice novelty prints for more versions of this blouse. It's surprisingly difficult to find just the right thing--not floral, smaller scale, without a definite stripe element, in colors that work for me. Many of the novelty prints that appeal to me are too big for such a short blouse which is chopped up into four panels on the front and six on the back (I added a center back seam for shaping). But I do have a white linen-rayon blend (Kaufmann's Brussels Washer) lined up for a nice basic white blouse. I'm sure that will be very useful.
This blouse counts as a success in my book--it's easy to care for and wear, flattering, comfortable, interesting and has a vintage flavor. I'm happy with it.