The sewing I had in mind for today was Simplicity 3833, the vintage reissue shift pattern that is the subject of Rosie Wednesday's Shift Dress Sew Along.
I don't believe I have ever officially participated in a sew along before, rugged individualist that I am ;-). But I've had this pattern for an age, and I decided to play well with others on this occasion. Today's sewing plans were dramatically derailed (!!!) by a strong chemical odor that rose up from my intended fabric, a poly ponte knit, as it lay on the cutting table. Although I have other nicer fabrics that might be great for this pattern, I did want to test it out in something less precious first. More and more often these days, I am finding that I can't even stand to sew, let alone wear, fume-y fabrics. Whether it's a change in me or a change in the fabrics I'm not sure.
Off to the laundry room went the fabric, for a double round of washing and machine drying. If it smells "clear" tomorrow, I will proceed with the dress. But for today, I had machines threaded up with brown and nothing to sew. No, wait, not nothing...something for my husband (clearly, I was desperate!). This vest had been patiently waiting its turn since before Christmas, and today it had its chance.
I've made bunches of Kwik Sew 3388 for my husband and son. This pattern couldn't be more basic, but it's something that they actually wear. A v-neck vest from this pattern in fleece or wool knit over a collared long-sleeved shirt is my architect husband's fall and winter work uniform (don't worry, he wears pants too).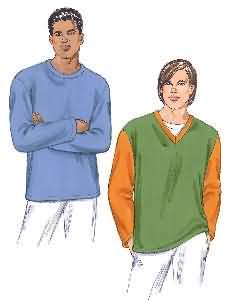 Here he is in a sleeved version made from black wool jersey
Since the pattern is designed as a sleeved garment, there are no instructions for finishing the armholes. I've tried various methods, as it's a bit tricky to get a nice edge in fleece. Self-fabric binding is too bulky, and I am never satisfied with turning the edge and topstitching it in place. My favorite finish is to use a woven bias tape, either purchased or self-made. This is a standard 1/2" wide single fold bias tape, applied to the right side of the armhole, turned to the inside and stitched close to the outer edge.
An exact color match isn't critical, since I roll the binding slightly to the inside to prevent it showing during wear. But I wouldn't recommend bright blue on tan fleece! I just threw that tape in the picture because I love the vintage packaging design...
This edge washes and wears beautifully. Because the armhole is large and deep (and because my husband likes his clothes way too big or, as he would say, relaxed), the edge does not really need to stretch.
As many times as I have made this pullover, I'm never entirely confident the v-neck will turn out nicely. I was happy with today's result!