Crazy that I didn't manage to take part in
Sew for Victory
last year! I'm always sewing things that would fit right in with Rochelle's wonderful theme and I loved seeing what other bloggers made for the sew-along.
So I'm very happy to have made something for this year's event.
My big challenge was to triumph over the sweetheart neckline, a quintessentially 1940's style that I adore but have never quite managed to make work for my frame. And by "frame" I mean narrow upper chest. Even when I have made the smallest size in the neck and shoulder area, the cut out area of the sweetheart neckline has been much too wide and has gaped, exposed my bra and/or its straps and just generally slipped around and looked bad.
Last June I made this same pattern...and it was a failure
. It looks okay in the photos, but I've never actually worn it: it's terribly uncomfortable! To solve the gaping on that dress, I took in the princess seams and the armhole seams. That was somewhat effective to stop the worst of the gaping, but it made moving my arms a tortuous proposition.
A more technical post about how I solved the gaping problem for this version of Simplicity 2174 is coming soon, but today I just wanted to celebrate my victory and join in the parade of lovely makes.
The fabric is rayon challis from the latterly-out-of-business Waechter's Silk Shop. Rayon challis is my favorite summer fabric: it is light, it breathes and it doesn't much mind if you sweat on it. I have memories of a different sort of rayon in the 1990's. There was one very pretty top and skirt that I wore to a garden party. When a summer rain shower passed through, everyone got soaked--and my outfit immediately started shrinking right on my body! But today's rayon challis seems to handle gentle washing, line drying and pressing with grace. Of course I prewashed my fabric...just to be sure!
Besides the sweetheart neckline, I was also drawn to the cute pockets on this dress. I discovered when I made my previous version, and then again on this one (oh, why isn't the first time enough?) that these pockets are drafted to sit a little bit open from the main body of the dress. A very close look at the technical drawing confirms that this was the designer's intention. The top of the pocket sections are wider than the underlying dress sections, creating ease at the top.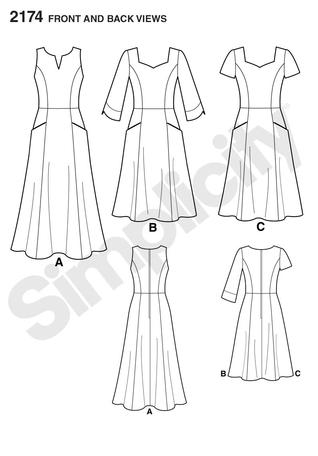 See that tiny little bulge at the side seam where the pocket meets the dress? That's the ease I'm referring to.

Once the dress was stitched up, I found I didn't like that draping effect at the pocket. It just looked saggy and maybe a little...unprofessionally constructed? So I took them loose and resewed the pockets to lie flat against the body of the dress. Now I like the way they look and they are perfect for toting a cell phone. Or food ration coupons. Or war bonds.
I used a self-drafted tulip sleeve in place of the boring one provided by the pattern. You can
read all about the tulip sleeve and find a tutorial for drafting your own in this post
. The one thing I feel I should repeat about this type of sleeve is that it is SO comfortable! And sometimes it catches the breeze just so!
This dress fits the bill for a practical and feminine 1940's summer garment in my book--comfortable, cool and modest! Thanks, Rochelle, for the inspiration!