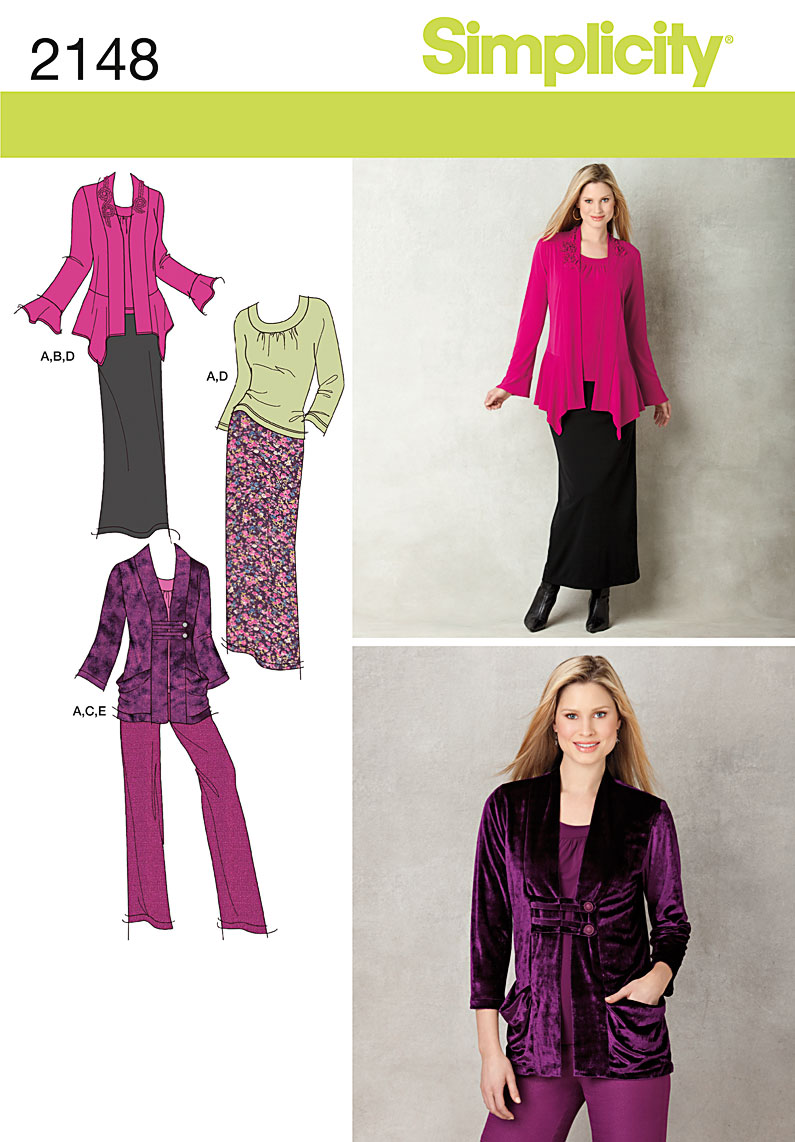 I b'lieve this pattern must be out of print now, and I'm not sure it ever took the world by storm, but I always liked the peplum/pointy front view (now I also like the other view, minus the slouchy pockets; maybe I'll try that one soon). I made a test version and altered the pattern about three years ago and then never got around to a wearable sweater.
So I pulled this back out this year to make up a sweater for my petite mom. She doesn't like things overly long, so my previous alterations of shortening the bodice one inch and the peplum two inches were perfect for her.
The fabric is a double-sided rayon/polyester ponte knit from FabricMart. Although it is appealingly soft and a nice color, the fabric did suffer in its prewash. It developed some faded lines (more visible on the back of the jacket) and it began to pill slightly. Good thing that this is going to my mom, since she is much easier on her clothes than me! I have a big white dog whose hair gets on everything, meaning I have to wash my clothes more frequently than I otherwise might do.
With the front flipped open, you can see the reverse side of the fabric
The hardest thing about this pattern is finishing the lower edge of the peplum. Different strategies will work better for different knits, but in this case I serged 1/2" strips of a very soft fusible interfacing to the hem, turned it up a generous 1/2", pressed in place and topstitched with a twin needle. This fabric happened to be quite cooperative with pressing and stitching. The pattern doesn't instruct you to miter the front corner, but I think that looks much better so that's what I did.
There are those lines that developed during prewashing
My mom and I both like the neckline and collar of this pattern. It isn't so much fabric that it is constantly flopping around, and the wrong sides are encased by the front band. Even though this style is probably not the most current or fashionable, I like how it hugs the neck and hangs.
The other slightly challenging aspect of the design is the inset corner at the shoulder. But the instructions are good and I didn't have much trouble making a nice sharp corner here.
The coordinating shell is Simplicity 4076.
It would be very simple to round off those dangly points in the front, and that's what I'd like to do in a sweater for myself. I like the pointy bits, but I have to confess that they might look a little dated.
My mom tried on the sweater yesterday and liked it, which was especially good since she seems to have just been diagnosed with cancer. I say "seems" because the communication with her primary care nurse practitioner has left something to be desired in terms of clarity. But we are working through the process and hope to know what she is facing soon.