So, I understand that Simplicity 2245, the Lisette Portfolio dress designed by Liesl Gibson, is kind of a thing. After the pattern had been taken out of print, it caught fire on Pinterest and copies grew scarce. I believe they go for big money on eBay.
According to Liesl's blog
, despite much customer interest and many requests, Simplicity decided not to reprint 2245. Reading a bit between the lines, I am guessing that copyright concerns prevented Liesl from reissuing the pattern in its original form under her own brand, Liesl + Co.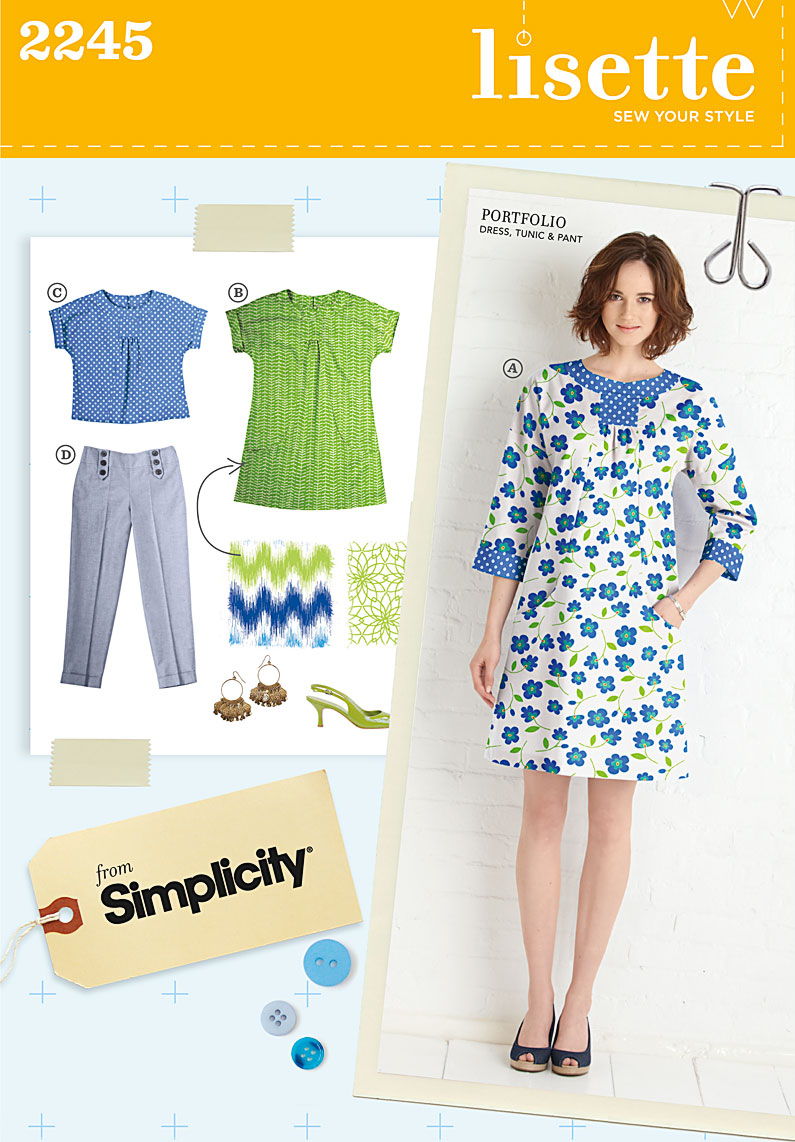 Original 2245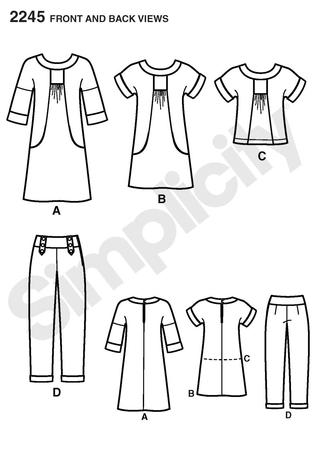 2245 Line drawing. The pants are cute too!
So Liesl + Co. reworked the design and released it in digital format as the
Cappuccino Dress + Tunic.
I like the new design and I think the V neckline would probably suit me better than the original round neck. But when I showed the pattern to my friend Amie as part of our "smock project" to outfit her in comfy funky smocks, she preferred the round neck. I blithely assured her that redrafting the Cappuccino dress to return it to the original Portfolio design would be no problem.
And actually it wasn't a problem, though like all pattern drafting it did require some thinking and much studying of images of the original dress. This is a size 12, shortened 3" at the hem to hit Amie right above the knee for wearing with leggings or slim pants, over a long-sleeved t-shirt.
I'm going to show you a couple of photos of the inside of the dress, in case someone out there would like to try a similar "back to the future" adaptation of the current pattern.
The gray linen smock for Amie is actually the second version I made of the pattern. After downloading, printing (all 45-some pages!), taping together, tracing and altering the pattern, I felt a need to check it before cutting into the final fabric. Using a cotton print bought for little at FabricMart (specifically for making test garments) and a scrap of linen from
Amie's Tosca Dress
, I mocked up a trial version. Here it is pre-embellishment:
I brought in the side seams underneath the arms and through the bodice to see if I could make this muslin work for me, but it's still really too big for me to wear out of the house. And it is long! Not the hemline--though I shortened that six inches--but the distance to the pockets. I can hardly reach them.
Even though I couldn't see myself getting much use from this garment, I couldn't help but try to dress it up a touch, with an applique made from some very fancy Anna Maria Horner ribbon.
Now I honestly like the tunic, but the colors still look grim on me and the neckline is still too large. So I'm tracing out a smaller size at the chest and shoulders, and shortening it through the torso, and I will see how that goes. I can't imagine this shape being particularly flattering on me, but it could be so comfortable and practical for my everyday activities of writing, housekeeping, cooking and childcare. I think it would be great for winter worn over a warm turtleneck and warm leggings or pants as an upper layer to brighten things up and hold my phone and tissues. And think of the crazy possibilities for combining fabrics and trims...