But before the tunic talk, I'm excited to say that my mom is fine! Her biopsy results came back today and there is no cancer. She was fuzzy on the exact name of the diagnosis, but it has something to do with a lymph node forming a hard, fixed cyst in some sort of an autoimmune reaction. Though I felt sure she would be okay in the end, I am so very glad that she does not need to undergo cancer treatment.
Thank you for your good wishes!
And just know that this can happen: you develop a lump in your armpit, go to the doctor, who messes around for six weeks, first telling you that you definitely have a malignant metastasis from some location in your body, refusing to do the test that you are requesting (a biopsy) until several other tests have been done and then find out that your lump is quite benign after all. I am not impressed with the care she received, to put it mildly.
Now, to our regularly scheduled tunic explorations. Here we have Butterick 5954. And I like it much better than the previous tunic I showed you. I had been trying to purchase this pattern for months, but it was always sold out during pattern sales (or it was summer). Finally snagged it though, and I am glad I persevered.
Obviously, the crossover shape is the main attraction. I decided to use this rayon/lycra knit, supposedly originally from J. Crew but bought at FabricMart, because it seemed too thin and limp for a more fitted top or dress. It falls nicely but it shows everything underneath, including the seam of the crossing-under portion of the front of the top. Good thing this top is loose!
No pockets in this one, and I can't see a good way to add them.
I remembered to check some reviews at PatternReview and online and I was glad I did. Many sewers wrote about the very large amount of flare at the bottom of the tunic and how it could give the impression of a "tail" in the back. I cut out the XS, minus at least 10" of circumference at the hem. It's something of a happy accident that the resulting fullness seems just right: not too much and not too little. From the two yards of fabric (minus some prewashing shrinkage), this was as full as I could fit onto my fabric, but I wouldn't want it fuller. I also shortened the front and back pattern pieces 1 1/2" at the printed line on the pattern, and the sleeves the same amount.
The cowl is made up per the pattern and it is a little skimpy, but there wasn't enough fabric for a deeper cowl in any case.
Here is a demonstration of the potential for flipping up, which is not inconsiderable. After taking these photos, I was out in gusty wind and I did feel the need to hold the lapping side down.
The skirt is
New Look 6228
, which I consider something of a ringer for the Colette Mabel. I wasn't sure whether it would be nice to even point that out, and so I was amused to find some
catty sniping over at GOMI on just this topic
.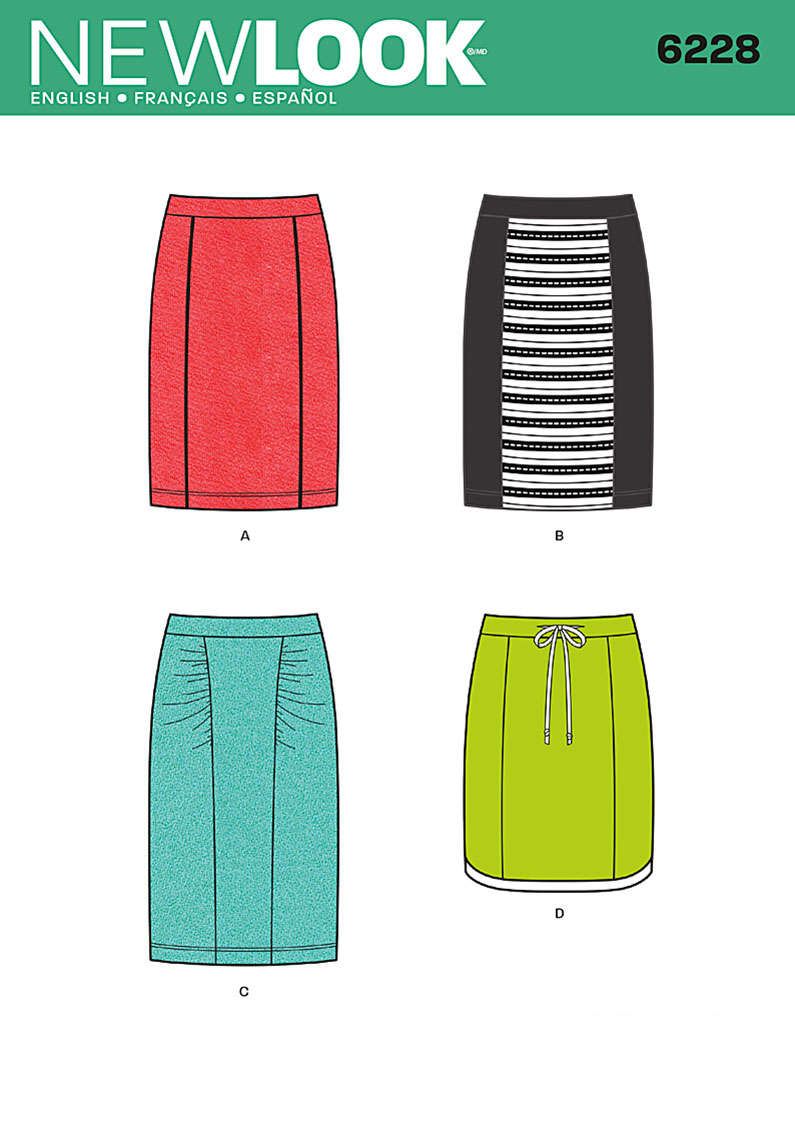 Although I have made this skirt with the three panels as shown on the envelope, I didn't think they would show up in this grid print ponte. So I just used the one-piece back of the skirt for both the front and the back of the skirt. Very easy and quick.
And see, I wore a slimmer lower garment, just for you guys!
Would you like this crossover tunic, or does the potential for flashing your belly put you off it? The non-crossover view looks promising, too.